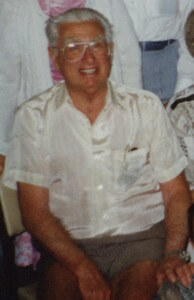 When I came to Christ in 1941, I found freedom from sin and its power. When I first realised the Truth of the Ephesian Mystery, the Secret which had been hid in God until it was revealed to Paul for me, a far off Gentile, I became free indeed in Him.
It seemed to be another kind of freedom where you were free from the domination of a peer group not only in the religious sense but also in the secular sense. Indeed, I was free from the shackles and trappings of the unscriptural canons of traditionalism. Yes, freedom from sin is a wonderful experience and freedom found because of obedience to Rightly Divide the Word brings a satisfaction in all the walks of life that is beyond explanation……
"We love Him, because He first loved us." 1 John 4:19
Surely the Grace that is to be found in this Scripture is the source and inspiration of all we attempt to do in His name. As for me, I would never have loved Him unless He had first loved me. ….. I could not have any greater motive than this … His great love constrains me – to search, to see and to serve as best I can.
* * *
(This extract is from the final page of "My Search for Truth" by Val Griffiths of New Zealand. Val fell asleep in His beloved Lord on Wednesday 31 July 2002.)