"Accepted in the Beloved" by Charles H. Welch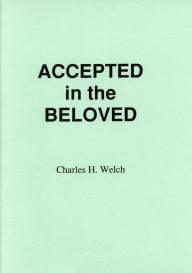 This booklet sets forth several facets of the believer's privileged position in Christ Jesus. The title has been taken from Ephesians 1:6, where the believer is said to be "accepted in the Beloved".
Terms and phrases dealt with include: "holy", "without blemish", "unreproveable", "washed", "before Him", "sanctified", "made meet", "sincere", "without offence", "acceptable", and more.