by Charles H. Welch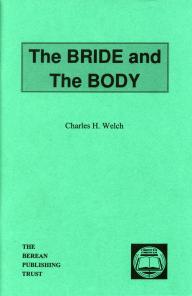 Bride and the Body (PDF)
An examination of three Scriptural terms: (1) The Wife. (2) The Bride, and (3) The Body; from which it is concluded that these signify three distinct callings. These three terms are considered under the following headings:
The Wife
The Bride
Tent and City
The Church of the Firstborn
The Church Which is His Body
Three Spheres of Blessing
The Body and the Middle Wall
The Middle Wall
What is a 'Joint-Body'?