by John Hutton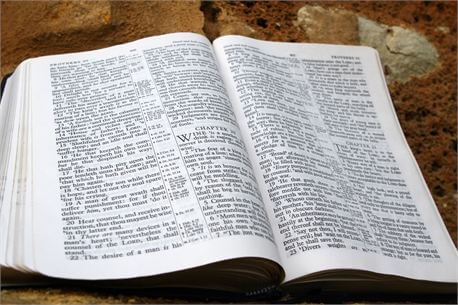 I want to look at the reliability of Scripture, something that many of our readers know and have heard before, but I don't think it hurts us to be reminded of things we learned years ago.
Point 1 – Driven
 '…But when the fourteenth night was come, as we were driven up and down in Adria, about midnight the shipmen deemed that they drew near to some country.' Acts 27:27
In Acts 27:13–27 we read that, on the way to Rome, the ship that Paul was travelling on encountered a very big wind. It was a sailing ship and the wind was so strong that the ship could not cope with it. If you have ever had anything to do with sailing boats, you will know that the power of the wind and waves can be frightening. Verses 15, 17 and 27 tell us that they were driven up and down the coast and had no power to do anything about it. There is no mention in the original texts of verse 17 about a heavy anchor. If there was an anchor, it had no effect or they wouldn't have been driven up and down the coast. The point I am making is that they could do nothing about the direction that the ship was taking. The wind decided that.
Now look at 2 Peter 1:20: 'Knowing this first, that no prophecy of the scripture is of any private interpretation.' For 'private interpretation', the NIV has, 'prophet's own interpretation'. Did Isaiah, for example, understand the things he wrote about? I'm sure that he did as far as they dealt with circumstances at the time in which he wrote them. But what about the times in the New Testament when the Lord, or one of the apostles, quotes him and says that this is what Isaiah was really writing about all of those years ago? I'm sure that Isaiah would have been surprised and even shocked at the real meaning of some of his prophesies.
Now, if the words that the writers of Scripture were not their own interpretation of what God was saying, then surely those words must mean only what God intended them to mean. In spite of what happens in many Bible study groups, where those present are asked what the particular passage means to them, we must do all we can to discover what God means by the passage.
2 Peter 1:21: 'For the prophecy came not in old time by the will of man: but holy men of God spake as they were moved by the Holy Ghost.' The word 'moved' in verse 21 and 'driven' in Acts 27:27 are the same Greek word in both passages. The writers of Scripture did not decide what they would write, they wrote what the Holy Spirit drove them to write. What were they driven to write? Surely the words of God!
Point 2 – Words
Words, and the way we use them, are very important. Think about the care necessary when we sign a contract. Look at the problems many folk, affected by the natural disasters in Queensland recently, are having with their insurance companies over the interpretation of words used. Does God use words lightly? I don't think so!
Turn to Psalm 12:6: 'The words of the LORD are pure words: as silver tried in a furnace of earth, purified seven times.' If that is true, then God's words are sure and reliable.
Turn to John 17:17: 'Sanctify them through thy truth: thy word is truth.' If God's word and words can be interpreted any way that satisfies the likes and dislikes of the reader, we should not be surprised at the confused state of Christendom today, should we?
Turn to 1 Corinthians 2:12,13: 'Now we have received, not the spirit of the world, but the spirit which is of God; that we might know the things that are freely given to us of God. Which things also we speak.' Stop here… What do we use when we speak? Words! 'Not in the words which man's wisdom teacheth, but which the Holy Ghost teacheth.' Stop once more… With what does the Holy Ghost teach? Words! 'Comparing spiritual things.' What things? Words! 'With spiritual.' Spiritual words!
Let me quote the NIV: 'This is what we speak, not in words taught us by human wisdom, but in words taught by the Spirit, expressing spiritual truths in spiritual words.' Which is the better translation, however, 'expressing spiritual truths' or 'comparing spiritual words'? Let us compare the way the Holy Spirit uses the same Greek word sunkrino translated both as 'expressing' and 'compared' 
Turn to 2 Corinthians 10:12: 'For we dare not make ourselves of the number, or compare ourselves with some that commend themselves: but they, measuring themselves by themselves, and comparing themselves among themselves, are not wise.'
I think, therefore, that the words 'expressing' and 'truths' are interpretation rather than translation. If you want get some understanding of what a verse of Scripture is talking about, what is the best way of going about it? First of all, look at what the word means, not the English word in the version that you are using, but the word in the original language, and see how the Holy Ghost has used it. Compare spiritual words with spiritual words. Commentaries can be very useful, but the greatest commentary on the Bible is what? The Bible itself!
You can argue with me if you like, but I believe that when you study the Bible without the use of a Greek text and an Englishman's Greek concordance handy, you are doing God's Word a disservice, and are less likely to come to a true meaning of what you are reading.
Point 3 – The Word of Truth
Turn to 2 Timothy 2:15: 'Study to shew thyself approved unto God…' Before we finish the verse turn to 2 Timothy 4:9: 'Do thy diligence to come shortly unto me', and verse 21: 'Do thy diligence to come before winter'. The word 'study' in 2 Timothy 2:15 and 'Do thy diligence' in 4:9 and 4:21, translate the same Greek word, 'be diligent'. If you are being diligent about something, what are doing about it? You are doing your best to get it right or to do it right! The NIV translates 2 Timothy 2:15: 'do your best' – and this time it has got it right. Another way of saying it is 'put yourself out'. 
Now back to 2 Timothy 2:15: ' "Do your best, put yourself out" to show yourself approved unto God a workman that needeth not to be ashamed, rightly dividing the word of truth.' What is the Word of truth? John 17:17 tells us: 'Sanctify them through thy truth: thy word is truth'.
Up until the death and resurrection of Christ, the word of God given to man was what we call the Old Testament. If God loved mankind so much that He was willing to give His own dearly beloved Son for them, that is, for us, don't you think that the Lord would have given man, that is, us, warning that some parts of the Old Testament were at best unreliable, and at worst untrue, if that was the case? But during His earthly ministry, the Lord doesn't question the creation, the existence of Noah and his story, the existence and prophesies of either Jonah, or Daniel, or anyone else in the Old Testament.
On the other hand, many theologians and believers today do. Some of those theologians, for example, tell us that two people wrote Isaiah. The first forty or so chapters were written by Isaiah, they say, and the remaining chapters were written by 'pseudo-Isaiah'. But the Lord quoted from the different parts of Isaiah, ascribing it all to the one man.
I accept the Old Testament as being the word and words of God and that they are trustworthy, because our Lord never once questioned them as being untrue or unreliable.
What about the New Testament? Turn to 2 Peter 3:15,16 '…and account that the longsuffering of our Lord is salvation; even as our beloved brother Paul also according to the wisdom given unto him hath written unto you; as also in all his epistles, speaking in them of these things; in which are some things hard to be understood, which they that are unlearned and unstable wrest, as they do also the other scriptures, unto their own destruction.'
Peter was a Jew who knew the Scriptures and would have been shattered if the Lord had ever suggested that they were unreliable. Peter had also been with the Lord all through His ministry, and had been instructed by the Lord for forty days after His resurrection. Not only that, but Peter also had 'the eyes of his understanding opened that he might understand the Scriptures', Luke 24:45. So Peter would have understood what the Lord was saying!
What is Peter saying, then, about the writings of Paul in the verse above? He is placing Paul's writings on the same level as the Old Testament. Peter said that men were wresting (or twisting) Paul's words as they did with the other Scriptures and he condemned them for that, although he admits that some of Paul's teachings were hard to understand. 
Point 4 – The Canon of the New Testament
Now another question arises. Can we trust that the books included in the New Testament are really what God wants us to have?
Here is a quote about the Canon of the New Testament from an article on 'The Canon of the Bible' in The Evangelical Dictionary of Theology: 'The formation of the New Testament canon was not a conciliar decision (that is not a decision made by a council). The earliest ecumenical council at Nicea, in AD 325, did not discuss the canon. The first undisputed decision of a council on the canon seems to be from Carthage in AD 397, which decreed that nothing should be read in the church under the name of divine Scriptures except the canonical writings. The twenty-seven books of the New Testament were then listed as the canonical writings. The council could list only those books that were generally regarded by the consensus of use as properly a canon. The formation of the New Testament canon must therefore be regarded as a process rather than an event, and a historical rather than a biblical matter. The coming of the Word of God in print is only slightly more capable of explication than the coming of the Word of God incarnate.'
I've asked a lot of questions and here is another one: Who do you think decided on the selected twenty-seven books – the church leaders at any time in history, or the Holy Spirit?
A comment on the above quote, which deserves passing on, is this: 'The writer makes an interesting point, which really contradicts the accusation of sceptics that the Church leaders foisted the books they wanted onto the gullible faithful.'
I was converted in the Salvation Army as a young teenager, and have never forgotten their first doctrine. It says: 'We believe that the Scriptures of the Old and New Testaments were given by inspiration of God and that they only constitute the Divine rule of Christian faith and practice.'
If that is true, and I believe unreservedly that it is, then every word from Genesis 1:1 to the last word in Revelation is not only inspired, but must be of equal inspiration. When I realised what that doctrine was really saying, I was staggered. If some of it is not God's word, which parts are and which parts are not? Are the parts I like the inspired parts, or are the parts my church teaches as unquestionable the inspired parts? If it is not all of equal inspiration, which parts are and which parts are not? Can we trust some of it but not others? If the Bible is not all true and all of equal inspiration, what are we going to do? Why study the Bible at all? I know what I would do if I doubted that the Bible was absolutely reliable – I'd throw it in the bin. What would you do?
Point 5 – Complete
Turn to Colossians 1:25: 'Whereof I am made a minister, according to the dispensation of God which is given to me for you, to fulfil the word of God.' Paul tells us that the revelation of the mystery given after the book of Acts finished – or filled full, or filled up, or completed – the Scriptures. The Greek word for fulfil is pleroma, which means to 'fill up' or 'fill full'. In its context in this verse it means to 'complete'.
What is this dispensation that completes Scripture? Colossians 1:26: 'Even the mystery which hath been hid from ages and from generations, but now is made manifest to his saints.' When did you last hear, or have you ever heard, a sermon on the revelation of the mystery or secret which had been hidden from ages and from generations, which fulfils Scripture?
Look at Christendom. We have Roman Catholic, Greek Orthodox, Russian Orthodox, High Church of England, Low Church of England, various Baptist faiths, Uniting Church, Salvation Army, Pentecostal, Dispensational groups, to name just some, and then all of the way-out cults and sects like the followers of the late Jim Jones. These all teach different things and argue with each other. What a marvellous witness to the Lord it all is!
Let me state an obvious fact: the various denominations cannot all be right in everything that they teach, can they? I know there are many things on which they agree, but why are there differences? Are they all wrong except the one you or I belong to? How can we know what is right and what is wrong? Has Christendom missed the revelation of the Mystery?
2 Corinthians 11:15: 'And no marvel; for Satan himself is transformed into an angel of light. Therefore it is no great thing if his ministers also be transformed as the ministers of righteousness.' If Satan is an angel of light and his ministers are ministers of righteousness, where will they be active?
There could be an even more serious shortcoming, however, than not seeing something in Scripture. Ignatious Loyola was the founder of the Roman Catholic order 'the Society of Jesus' or the 'Jesuits'. He said this: 'I will believe that the white that I see is black, if the hierarchical Church says so.'
But what is the correct attitude for the believer – to believe the words of God, or what my Church tells me it means without question?
Point 6 – Diligence
Back to 2 Timothy 2:15: ' "Do your best, put yourself out", to show yourself approved unto God a workman that needeth not to be ashamed, rightly dividing the word of truth.'
Let me ask this question: If I do my best, if I put myself out in my endeavours to rightly divide the Word of God, what will I be considered by God? An 'unashamed workman', an approved workman of His!
Another question: If I do not do my best, if I do not put myself out, if I do not learn how to rightly divide the Word of God, whatever that may mean, what will I be considered by God? An 'ashamed workman', an unapproved workman of His!
We are not talking about a little matter, are we? If I am an ashamed workman in His sight, what words may I never have a chance of hearing? 'Well done, you good and faithful servant.'
Verses 16–18: 'But shun profane and vain babblings.' (What are profane and vain babblings? Anything that is not the truth.) 'For they will increase unto more ungodliness. And their word will eat as doth a canker: of whom is Hymenaeus and Philetus; Who concerning the truth have erred, saying that the resurrection is past already; and overthrow the faith of some.'
What should my attitude be to what I hear about God and His ways? Turn to Acts 17:1–4: 'Now when they had passed through Amphipolis and Apollonia, they came to Thessalonica, where was a synagogue of the Jews: and Paul, as his manner was, went in unto them, and three sabbath days reasoned with them out of the scriptures, opening and alleging, that Christ must needs have suffered, and risen again from the dead; and that this Jesus, whom I preach unto you, is Christ. And some of them believed, and consorted with Paul and Silas; and of the devout Greeks a great multitude, and of the chief women not a few.'
What was the attitude of the Jews who did not believe? Verses 5–10: 'But the Jews which believed not, moved with envy, took unto them certain lewd fellows of the baser sort, and gathered a company, and set all the city on an uproar, and assaulted the house of Jason, and sought to bring them out to the people. And when they found them not, they drew Jason and certain brethren unto the rulers of the city, crying, "These that have turned the world upside down are come hither also; whom Jason hath received: and these all do contrary to the decrees of Caesar, saying that there is another king, one Jesus". And they troubled the people and the rulers of the city, when they heard these things. And when they had taken security of Jason, and of the other, they let them go. And the brethren immediately sent away Paul and Silas by night unto Berea: who coming thither went into the synagogue of the Jews.'
Things were pretty bad in Thessalonica and Paul had to escape to Berea. Verse 11: 'These (that is, the Jews in Berea) were more noble than those in Thessalonica. What made them 'more noble'? 'They were more noble in that (or because) they received the word with all readiness of mind, and searched the scriptures daily, whether those things were so.'
This is why we use the word 'Berean' in the name of our Fellowship. We want to copy those Jews of Berea who listened to Paul's words, and then compared what he said with the Scriptures to see whether what he said was true.
There is coming a time when we will all stand before the Lord to give an account of ourselves. If I use the excuse that I have believed something because that is what my Church or group taught me, what might the Lord's answer be? Possibly something like this: 'I will deal with that Church, but you can read and if you had put yourself out to see if what your Church was saying was correct or not, you would have discovered that what you were taught was wrong.' Bible study is a dangerous thing! What should be our response if the Holy Spirit points out that something that we absolutely believed is wrong?
I believe that in the Bible we have all the words – all the words – that God wants us to have and that they are absolutely reliable.