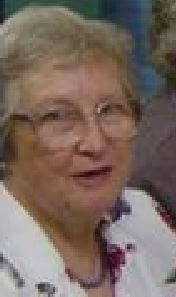 I was fortunate to be born into a Christian home with bible readings and prayer each evening. Our favourite passage as children was from Acts 12 when the Lord sent an angel to release Peter from prison.
As children we attended Kingsgrove Baptist Church, Sunday school and Christian Endeavour, basket teas and picnics. In my teen years I took a Sunday school class, joined the choir and became a leader in the club, the Crusaders.
In late teens while "keeping company" with a young chap, we were baptized in a double service, despite a few doubts I had because I knew of some of my mother's beliefs on Right Division. It wasn't until much later that I fully understood Paul's revelation of the mystery and the Prison Epistles.
My earliest recollections are when I was about seven years old, visiting Mr & Mrs Oldham's home at Pagewood in the mid 1940's. Others families that were there were the Colliers, Plumbs and the Reynolds.
In the summer months I have happy memories of playing in the Sydney Botanical Gardens while our parents read and discussed articles from the Berean Expositor. Meetings were also held in Joy Jarvis' grandparents home, Mr. & Mrs. McKinstry, at Allawah. I thought that the singing around the white piano was quite special. Lovely days were spent in the bush setting at George and Daisy Collier's home at Mt. Coolah and at other family homes.
For a while meetings were held in the Y.W.C.A. rooms in the City, with George Collier taking the studies. In the late 40's and early 50's tapes became available from the Berean Forward Movement in England.
Returning to Australia, after several years in New Zealand, I joined my mother, Hazel Thompson, in regular monthly meetings at different peoples homes under the leadership of George Collier and Athol Walter.
It was during these years that I gained a fuller understanding and appreciation of Right Division and God's plan for the Church which is His Body. I am thankful for God's leading in my life which brought me to the acceptance of His grace, through Paul, in Ephesians 1:2-10.
I have enjoyed many happy years of fellowship since, as our groups have grown under the faithful ministry of Athol Walter and those who have joined our fellowship through that ministry.
"Study to shew thyself approved unto God, a workman that needeth not to be ashamed, rightly dividing the Word of Truth." 2 Timothy 2:15.
Ilma Bishop, 1993.