by Pastor William Campbell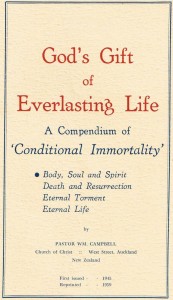 GOD'S GIFT OF EVERLASTING LIFE – W Campbell (PDF)
Full title: "God's Gift of Everlasting Life, a Compendium of Conditional Immortality".
(Contact us if you would like to receive a free hard copy of this and other works by William Campbell.)
Contents
Chapter 1 – Introduction … p.3
How the Need Arose

Authority

A Useful Word Study

How Deception Entered

Who Possesses Immortality?
Chapter 2 – The Soul … p.10
The Nature of the Soul

This Perishing Soul

Some Curious Texts

Likeness and Image

Wider Usage of "The Soul"
Chapter 3 – The Spirit … p.16
What is the Spirit?

Body, Soul and Spirit
Chapter 4 – Death … p.19
What Happens When We Die?

Is there a Spiritual Death?

Death is a Sleep
Chapter 5 – The Place and State of the Dead … p.26
Where are the Dead?

Sheol and Hades
Chapter 6 Resurrection … p.30
What is the Resurrection?

The Order of Resurrection

The Nature of Resurrection

Many Difficulties Explained

"Desiring to Depart"
Chapter 7 Eternal Conscious Torment … p.36
The Destiny of the Unsaved

Divine Justice

The Wicked in Death and Resurrection

Special Passages Considered

Everlasting Burnings

The Undying Worm

Torment with Fire and Brimstone

Eternal or Age Lasting

Further Special Passages

Paul in Paradise

Christ and the Dying Thief

The Rich Man and Lazarus

Other Passages
Conclusion … p.60
What others have said about this booklet:
"Probably the best introductory book I have read on these subjects." – David Tavender