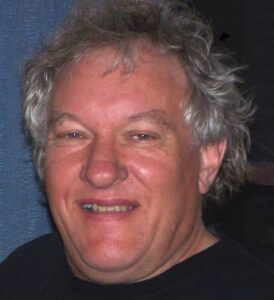 As I sit and ponder the process that brought me to see the truth of the Mystery I can but praise God for His goodness toward me. How gracious and kind is the love of the Father, Who, through His Son, created the universe. He loved me while I was yet a sinner and sent His Son to die for me.
What more can there be? I thought there was more though. Having been brought up in the Assemblies of God denomination, I had been of the opinion that there was a 'second blessing.' What is more than that – I had experienced that blessing! I had spoken in tongues, given prophecies, had words of knowledge, had prayed for people and seen them healed. Proof positive that we were still in the age when such things happen, at least it was to me and all my churchgoing friends.
To my horror I found out that there were professing Christians that didn't believe we were in that same time. What could I do with them? They were certainly Christians for all I could tell. Why then would they want to miss out on all God had for them? Oh, they did everything else and as I said they were certainly Christian. But they didn't want this 'second blessing.'
It saddens me too, that I put the label 'Nominal Christian' on anyone that hadn't had the same experience as me because they didn't do all the things that I thought made one a Christian. How narrow-minded.
Then someone began to talk to me about these things as no one ever had before. No one else had ever challenged my Pentecostal beliefs, at least as far as I could tell. Actually, maybe they did and I didn't hear them – none so blind etc. The person in mind, though, always took me back to the Scriptures and wouldn't take an answer like "But I know that these things are for today because I have experienced them." How cruel, to take someone who believes in experience, to the Bible.
Unfortunately for me I couldn't argue with Brian, though I desperately wanted to. You see, not only did I have all those beliefs; I also wanted to do something with them. Almost as far back as I could remember I wanted to be a minister of the Gospel – and where else but in the A.O.G? The possibility that we were no longer in the days when the miraculous was to happen was just too much for me to come to grips with. What was I to do about becoming a minister if I could no longer use the gifts? Of what use is a non-Pentecostal Pentecostal pastor? What a dilemma!
Over time in our discussions Brian would bring up things that I had no argument for. Where did I go to look for answers to these perplexing questions? To the Bible, that's where! Trouble was that I was looking at a Bible with footnotes written by Pentecostalists and then trying to see what the passage meant. I hadn't even heard of doing a word study, let alone anything deeper. I was kindly given a Strong's Concordance and an interlinear New Testament, again by Brian, he could see that I was trying at least. I just didn't have the tools to do the study I wanted to. What a difference that made! Now I could see what the Bible had to say about the Bible, and what a difference that made! I began to see, through simple word studies, that the beliefs I had held for so long were not based in God's Word but in the traditions of men.
None of these studies were anything too deep, mind. I wanted to be a pastor but was a babe in the things of the Word. And none of the studies were anything dispensational, the first study was on the words "dead, death, died, dying" and any variation of the word I could think of. That certainly put paid to anything other than death at death, barring the resurrection that is. I had always been told, and because of that thought I believed, that when one dies they don't really die but begin real life in the eternal. Well, if they got that wrong – then what else did they get wrong?
Now, what about those gifts though? Was I that deluded? Had I been speaking in gibberish all that time? And what about the healings and the prophecies and the words of knowledge I had given and been given? What about… well, what about lots of things?
I tried, I really did try. Oh! how I tried to prove from the Scriptures that there was nothing different about the Prison Epistles – but to no avail. The more I looked the more I became convinced that the Mystery spoken of by Paul in Ephesians etc. was indeed the truth. It wasn't as easy as simply throwing out the old beliefs for the new, oh no. I now had to go through a soul-searching, agonising process to see if I wanted Pentecostalism more than I wanted the truth, for that is what it had come down to as I saw it. Did I want to leave the path I had chosen for my life, no–more; the path I felt all along that God had chosen for my life, for a much more uncertain one? What to do?
Another complication that was facing me was the fact that I was engaged. Should I marry Merilee and not tell her that I was beginning to see that the Pentecostal experience was not what I had always thought? Well, I should… but could I? We were both heavily involved in the life of the church, me as a youth leader and she the music director.
Deciding that I had better do the right thing by her, one day I told Merilee what I had been thinking.
Me, (after much small-talk trying to get my courage up) "I've been thinking that maybe the Pentecostal thing isn't all it's cracked up to be". Cringe.
Merilee, "Yeah, me too."
Me, "Ummm… ahhh…errr… what did you say?"
Was I surprised or what? But I had heard right!
Me, (getting up a bit more courage) "Well, actually, I have been thinking that maybe the church didn't start at Pentecost after all but more like at the end of Acts, etc, etc, bla, bla, bla." Gulp.
Merilee, "Yep, I think I can see what you are saying."
Me, "oh… good… well then…" Thank You God on that one.
After an agonizing time I realized that I had to be honest with the Word of God and with myself.
What a rocky road I have travelled since then! At times I had no fellowship with those of like mind, having moved from Newcastle up to Bowen in North Queensland. At times it wasn't that I didn't want the fellowship but that the loss I had suffered was so large that at times it seemed to overwhelm me. Not only had I wanted to be a minister but also Merilee always wanted to be married to one, so she felt the pain as much as I did.
Things have settled down now and we are both rejoicing in the goodness of God and the riches of the blessings He has given us in Christ. Now, there is no greater joy than to be able to share the truth of the Mystery with other Christians.
An observation I often hear is that we should be concentrating on the unsaved rather than 'preaching' to Christians. In some ways I agree and I love to share the Good News with an unbeliever. On the other hand there are so many people put there preaching the Good News that sometimes the Christians miss out because of the emphasis on the non-Christians.
Seeing the truth of the Mystery solved so many of the nagging questions I had. I admit that for a while it brought up more questions than answers but they were questions that had answers. Now the Word is more alive and much easier to understand than it has ever been. I praise God for the opportunity He has given me to share the truth and I look forward to other times I will have in the future.
This testimony was written in 1996 sometime. Since then we certainly have had the opportunity to speak to many people about the truth of the Mystery. As I write this, on the 1st day of 2006, we have six families regularly attending our fortnightly Bible studies and we are enjoying a rich time of fellowship. One of the men in the group takes it turn about with me doing the studies and what a blast it is to see the growth in him and the others' in our group!
Frank Haegler, 2006.