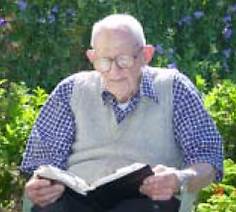 Looking back on my early childhood, it was at about nine years of age that I was encouraged to read my Bible. As I read it, it occurred to me that some books differed from others; even the Old Testament seemed different to much of the New Testament and I often wondered "Why?" Many years passed before I found the answer.
My mother passed away when I was 12 years of age. It was about this time, as I read my Bible, attending the Village Sunday school and Church that I realised that I did not know the "Way to Heaven."
This caused me great concern and anxiety. Even though my parents went to the local Church and had family worship, it did not enter my head to ask them if they could help me.
I thank my Heavenly Father for this experience, for I firmly believe it was the working of God's plan for me, to show me my lost state in sin and then reveal the Saviour to me, wherein I would see the truths of the Scriptures, firstly pertaining to Israel as God's earthly people where the Gentiles would be blessed in the Kingdom scene on the earth and then the heavenly calling revealed to Paul in Ephesians with it's Spiritual Blessings, the members of this calling being members of the Church which is His Body with it's heavenly hope for the believer in Christ.
Now, my anxiety and concern remained for some time and I decided to ask the minister of our Church if he could help me and tell me the way to heaven. My plan was to wait at the back of the building, because after the meeting was over and folks went home, he always went out the back door to his car. The door opened and there I was, waiting patiently. Seeing me the minister said, "Dave, how are you, can I help you?" I replied, "Could you tell me the way to heaven?" I stood there to behold the most amazed face that I can ever remember.
I thought that all of my anxieties would be answered but alas, although a Church minister with a B.A. Degree, he did not have the answer to bring rest and peace to me.
"Dave" he said, "you are a good boy, you have godly parents for they have been missionaries, you come to Church and Sunday school, just keep doing all of that and you will get there." "Thank you" I said but walked home that afternoon a very disappointed lad. The answer never swept away my deep concern and anxiety, or supplied my need.
I remember now that the minister never mentioned in his preaching that all have sinned and come short of the glory of God, and while we were yet sinners Christ died for us, or that Christ was the way, the truth and the life, no man coming to the Father except through the Saviour.
After my mother died, I found a great friend in a man and his wife who attended a Brethren meeting. Many times I visited them and the Scriptures were always read and talked about. The Saviour was uplifted but still the answer to my question never came.
Later on I helped conduct a "bush" Sunday school and attended evangelistic meetings, where on several occasions I went up to the front and signed the decision card which said I repented of my sin and accepted Christ as my Saviour, yet no satisfaction within. Even though I was now busily engaged in young people's work in the Church, I avoided opportunities to profess the Saviour to other, for in reality I did not know Him.
Time passed on, we sold our farm and moved to another town. There, in the business world, I met a man who was a believer and also believed in the message of the book of Ephesians with its wonderful revelation of the Church which is His Body, wherein "we have redemption through His blood, the forgiveness of sin according to the riches of His grace."
On many an occasion, when obtaining his supplies for his business, he would speak to me of the Saviour and my need of Him. He told me later that I had great skills at "putting him off." Nevertheless I have learned that when God is ready, according to the good pleasure of His will, when He goes forth to save a soul, no man on earth or the powers of darkness can stay the hand of God.
One day the businessman asked me what I knew about Noah. I had dramatized the story in our Sunday school, so I told him of that experience. He then briefly told me the story of Noah. "Did you know that even Noah's end had come?" he asked and went on to explain, "for God said the end of all flesh before me is come" and that included Noah.
Then he told me the difference. "But Noah found grace in the eyes of the Lord", Gen 6:8. he went on to explain the story of the Ark and God shutting the door after Noah entered, which was Noah's security and ensured his deliverance from the judgment of the Flood. This is a picture of our Saviour, whom God has provided to deliver us, bearing the judgment of God upon sin in our place. "For the wages of sin is death, but the gift of God is eternal life through Jesus Christ our Lord." Rom. 6:23.
I promised my friend I would read the story of Noah that night before retiring. A wonderful thing happened that night as I turned to Gen. 6. when I got the verse 8, I read the words "but Noah found grace…", suddenly there came a peace and uplift that I never knew before; for there, in reading those Scriptures, God our Father quickened to me a personal knowledge of His dear Son, who loved me and gave Himself for me.
"But God, who is rich in mercy, for his great love wherewith he loved us, Even when we were dead in sins, hath quickened us together with Christ, (by grace ye are saved)" Eph. 2:4-5.
What an experience, likened to coming out of a darkened place into a marvelous bright light. Next morning I met a young man, a believer and started a vivid conversation as to God's saving grace. "Stop" he said, "before you say any more, tell me, where have you been since I saw you last?" He could see that something had happened within. Such was the effect of that personal experience with the written Word, which is the Living Word. Our Lord and Saviour.
Later on, I saw an advertisement in out local paper offering help in the Scriptures as to the Rightly Divided Word and the Church which is His Body. I contacted the person and it was Mr. George Collier. Correspondence followed and later on we were to meet with Mr. and Mrs. Collier and enjoyed much fellowship with them, learning more of the Ephesian truth of the Mystery. The revelation of the Church which is His Body, of which He is the Head and in whom we are blessed with all spiritual blessings in heavenly places.
It was just 20 years after searching for the "way to heaven" that God brought me to know His saving grace through the Lord Jesus Christ.
Now some 45 years have passed and we praise God for the opportunities to meet other believers of like mind. Doors of opportunity have always been opened to speak of God's saving grace, our heavenly blessings in Christ and our blessed hope, to be manifest with Him in Glory. Colossians 3:1-4.
The query as to why there were different truths in the Scriptures, yet all God's truth, puzzled me while but a lad. My wondering about all of the differences and the way to heaven was answered as I continued to learn of God's plan, Israel with its earthly hope and blessings and a heavenly calling where our hope is heavenly.
So, I have found the answer – tell me – what about you?
I can only conclude my story by rejoicing and giving thanks that "unto you therefore which believe – He is Precious." 1 Peter 2:7.
David Fryer, 1993.
(David fell asleep in His beloved Lord on September 1st, 2004.)