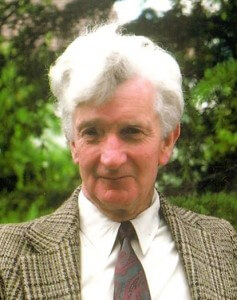 We were not a church going family, but my dad was very strict about keeping Sunday as a day of rest and we were not allowed to play dice or card games.
The church was some distance away, a long walk, or a horse and sulky ride.
The Church of England minister visited us sometimes and when I was about fifteen, he asked my mother if I could go to confirmation classes. She gave permission and I was confirmed in St. John's Church, Beecroft. The Bible, I'm afraid, was a closed book to me.
In the 'depression years' my dad grew flowers, which he sold to a florist in the City. These had to be taken to a carrier about a mile away, in a cardboard box and by pushbike. On one particular day there were two boxes and my dad insisted on coming to carry the other box. I stayed on to do some shopping and my dad went back home.
About three quarters of an hour later, when I was half way home, I came upon a group of people gathered on the side of the road, near a truck. Someone stopped me and told me my dad had been killed, the truck had run into him, head on, on the bike.
I was shattered and for some time afterward afraid to go out on my bike. I could not understand 'why' this should happen to us. I was about 22 at the time.
At that time, my mum and I began listening to a radio church service. It was then that I began reading my Bible and I came across the verse in John 6:68, where the Lord asked the disciples if they were going to leave Him as well. Their answer, "Lord, to whom shall we go?"
I had been asking the same question and could not find an answer. Here was an answer; the Lord Jesus Christ was the only sure one that you could go to, because He had the words of eternal life.
Soon after this I started to attend the church at St. Johns', Beecroft. Sometime after a request for a Sunday school teacher was made and I offered myself. I was given a class of seven or eight year old boys and for some years this kept me on my toes.
A Fellowship Tea was held once a month and a very dedicated group of young Christians they were that attended. Many of them went on to become missionaries and ministers.
It was there that I met Kath and Phyl Plumbe, who had commenced a fellowship in their home at Cheltenham. Phyl spoke to me about Mr. Welch and "Right Division" but I was rebellious about it and refused to believe that this man could argue against so many "learned theologians" and be right.
Later on he sent me a copy of Mr. Harrop's "the Babbler". It was then that I began to become interested and I liked his sense of humour and his easy style of writing.
Still later, Kath bought a reel-to-reel tape recorder and we listened to some of the recordings from The Chapel of The Opened Book. Gradually, I was led into a knowledge of the truth of The Mystery.
It taught me so much and gave me many answers to passages in the Bible that I couldn't understand. That process has continued over the years and I thank the Lord for opening the Truth to me.
Phyl and I were married in St. John's Church, Beecroft. For some years Phyl and I ran a Sunday school in what was St. James, West Beecroft, a part of Beecroft parish. There were about 30 children attending and we helped build the hall on Saturdays with voluntary help.
I am very thankful to George and Daisy Collier for the many talks I had with them in our home "Lindisfarne", West Pennant Hills, after the monthly meetings were over. They were special times.
Cec Heath, 1993.