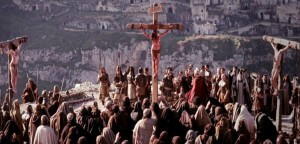 Have we got the right picture for this web page? Actually, yes, we have.
The word 'baptism' often conjures up an image of water. However, in the Scriptures, there are several baptisms mentioned, and about half of them have nothing to do with water at all. 1 Corinthians 10:1,2 even speaks of a baptism where it was in a person's best interest not to get wet.
Ephesians 4:5 tells us that, today, there is one baptism, not several, in operation. If someone has put their faith in Christ, they are said to have been "baptized unto/into Christ" (Romans 6:3), or to have "put on Christ" (Galatians 3:27). In general terms, we died with Christ and we are identified with Him; because He is alive, we have been given life too.
We have been Crucified with Him (Galatians 2:20 ;  Romans 6:6)
We have Died with Him (Romans 6:8)
We have been Buried with Him (Romans 6:4;  Colossians 2:12)
We have been Made Alive with Him (Ephesians 2:5)
We have been Raised with Him (Ephesians 2:5)
We have been Seated with Him (Ephesians 2:6)
Therefore, we shall Appear with Him (Colossians 3:4)
The list above constitutes the one baptism (Ephesians 4:5) in operation today. This baptism is not a water baptism, but identification with Christ in His death and resurrection. We are reckoned as righteous before God, because we have been identified with Christ's righteousness. This, indeed, is grace!
The exhortation which accompanies this is that we should not behave as if we were dead and without hope. Rather, we should behave as if alive and with hope, and live our lives in a way appropriate for those who belong to God. Note these words from Romans 6 –
4 Therefore we are buried with him by baptism into death: that like as Christ was raised up from the dead by the glory of the Father, even so we also should walk in newness of life. 5 For if we have been planted together in the likeness of his death, we shall be also in the likeness of his resurrection …   8 Now if we be dead with Christ, we believe that we shall also live with him: 9 Knowing that Christ being raised from the dead dieth no more; death hath no more dominion over him. 10 For in that he died, he died unto sin once: but in that he liveth, he liveth unto God. 11 Likewise reckon ye also yourselves to be dead indeed unto sin, but alive unto God through Jesus Christ our Lord. (Romans 6:4, 5, 8-11)
It can be seen, then, that our privileged position comes with responsibilities, too.
So, what does 'baptism' actually  mean?
As a general definition, 'baptism' has the idea of being overwhelmed, encompassed, enveloped (as in a fog), clothed, surrounded by something etc. This sense can be applied in some way to all baptisms in the Bible. Immersion in water may be involved, but not all baptisms involve water. In Scripture, we read that some baptisms include: being immersed or washed in water, being endued with the Holy Spirit, being identified with Moses and all he stood for, being identified with Christ in His death and resurrection, and there are others. See our Chart – Various Baptisms Compared , which outlines the features and roles of 10 different baptisms mentioned in the Bible.
For further reading, view the PDF booklet Baptism  by Stuart Allen. It is written in simple language, but covers many facets of what can be a complex subject.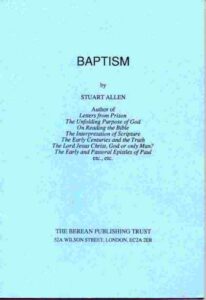 Also related:
Chart – John's Baptism+ Acts Baptism compared
Christ's Water Baptism in the Jordan
The Lord's own Baptism of Suffering
Baptism in+with the Holy Spirit